History Center: Another Hijacking Underway
17 October 2019
For over ten years, a group of volunteers, along with some paid staff, has been working to develop a concept for the N.C. Civil War and Reconstruction History Center, as well as raise funds, design the building, and build it. As of this writing, they have, with the help of extremely capable individuals, started to collect information consistent with their concept for the Center. Even further, millions of dollars have been raised and an award-winning architectural design is complete.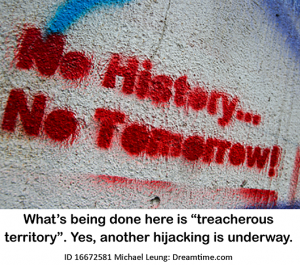 Beyond what is happening locally, the budget currently being considered by the North Carolina General Assembly includes $46 million for this project. That budget was vetoed by Governor Roy Cooper, but the House voted to override the veto. At this moment, action by the Senate is pending.
A study conducted by ConsultEcon, Inc. in 2014 stated, "The preliminary attendance potential is estimated at 75,000 to 135,000, with a mid-range estimate rounded to 105,000 in a stable year of operation." Considering that this assessment was before SEGRA Stadium, the Woodpeckers baseball team, the Prince Charles Hotel resurrection, and all the other development coming to downtown, the economic impact of the History Center will be substantial.
With all of that in place, and the project moving ahead, Mayor Mitch Colvin, who is black, has now stated that he opposes proceeding with the History Center under the current concept and name. He explains that his objection is based on input from citizens (not just black citizens) who oppose the project. As best as I can determine, two considerations are central to the opposition by black citizens with whom the mayor has talked: Because of slavery references, they are uncomfortable with discussion of the Civil War; do not trust that slavery and the Civil War will be accurately addressed. Colvin also argues that the $7.5 million that the City of Fayetteville promised to provide in support of this project can be better used elsewhere. In order to obtain state support, Fayetteville and Cumberland County were required to commit that they would invest $7.5 million each in the project.
The summary of Mayor Colvin's position in the preceding paragraph is based on various reporting in the Fayetteville Observer and his comments during a public meeting on Thursday night, 26 September 2019. I attended that meeting. It was organized by Val Applewhite, former city councilwoman, with Advance Carolina and the Fayetteville Branch of the National Association for the Advancement of Colored People (NAACP) as co-sponsors. Given the content and flow of the meeting, I concluded it was an obvious attempt to build opposition to the History Center. Aside from some elected officials, the attendees were overwhelmingly black citizens.
Given the amazing progress that has been made to this point by organizers, the reasonable question is what gives Mayor Colvin, some Council members, and a few vocal citizens justification to demand changes to the name and concept of this project? Do the math. Considering price increases, the cost of the Center will certainly be more than $65 million; the state will put in $46 million and forever pay the cost of operating the facility after construction; organizers are raising millions of dollars; Cumberland County will provide $7.5 million. Add the fact that this is a state facility, not just for Fayetteville. For an investment of $7.5 million, a one-time investment, Fayetteville receives a tremendous economic return over many years to come.
In the final analysis, $7.5 million from Fayetteville is miniscule and will be recouped in taxes, not to mention added jobs. This being the case, why would Colvin and his group try to take over, and even risk losing, this project? My thinking is this is more identity politics. Consider the primary population categories in Fayetteville as available at http://worldpopulationreview.com: White: 45.95%; Black or African American: 41.54%; Two or more races: 5.83%; Asian: 2.88%; Other race: 2.59%.
Here is my unpacking of that assessment. If Colvin and other black politicians, as well as some like-minded whites, can appeal to the emotions of the 41.54% of black Fayetteville citizens and drive substantial voter turnout, they can easily win elections. Add some of the other non-white groups and the odds are even better. This is the game that is played across America.
This is not the first time Colvin has convinced some members of Council to force a group to make major changes in their program based on an alleged concern for Fayetteville's black citizens. It also happened in 2016. I wrote about this episode in a column titled, "Dogwood Festival Music Diversity: An Opportunity for Exercising Leadership". Please read the column at http://www.karlmerritt.com/2017/02/03/dogwood-festival-music-diversity-an-opportunity-for-exercising-leadership/. In my estimation, Colvin, and some other members of Council, in an atmosphere of total disrespect toward officials of the Festival and lack of appreciation for the contributions of the Dogwood organization to this city, bullied them into adding music genres that are totally inconsistent with what had been a very successful concept. The Dogwood Festival was "hijacked" and the same thing is being attempted with the History Center.
In preparation for writing this column, I emailed eight questions to Mayor Colvin and all nine members of City Council. Councilwoman Tisha Waddell was the only one to answer the questions in writing. Councilman Bill Crisp answered every question during a phone conversation. Councilman D.J. Haire, after some back-and-forth by email, sent one saying that he saw me at the Thursday meeting and what he said there is his position. That is, he is talking with his constituents. Mayor Colvin's response was to ask if I sent the questions to Cumberland County Commissioners. I responded that I had not sent the questions because I understood they were still on board and asked if he knew differently. There was no further response. I received no response, email or otherwise, from the remaining members of Council.
Space will only allow me to share responses to a few of the eight questions. One question was, "What steps are being taken by Council to accurately determine the magnitude of opposition to and support for this project?" Neither Waddell nor Crisp made any claim of an organized process for accurately measuring opposition or support. In the Thursday meeting, Haire indicated that he is holding listening sessions throughout his district. Waddell indicated that she received two phone calls and one email expressing opposition to the Center. Crisp said, from his district, one person advised him of opposition while several indicated support for the project. Given Fayetteville's population of over 200,000, it is impossible to conclude that there is a fair and effective effort to measure opposition to the History Center. I say "opposition" because I sense there is no effort on the part of the mayor and his cohorts to measure support. If that were the case, there would be serious outreach across racial lines and presentations would be balanced.
Another question was, "Given that a previous council approved the funding and organizers have substantially moved ahead depending on that funding, do you have concern that pulling the funding will cause future distrust of Fayetteville government?" Waddell and Crisp fully recognize the danger in the wrangling that is going on regarding City support of this project. In my estimation, this discourages citizens, businesses, or anybody who might be willing to invest in the advancement of this city; they must be able to trust the Council to live up to its commitments. Even further, our legislative delegation, based on a supportive vote of a previous Council, fought to get state funding for this project. Now, at the last minute, the rug is being toyed with in what I hold is an indefensible manner. I find it laughable that, given how Council is handling this matter, anybody would have the audacity to question the honesty and integrity of the History Center organizers.
A third question: "If the $7.5 million is withdrawn, how will it be used? What will be the economic impact of the alternative use?" It has become common knowledge that the $7.5 million City commitment is not budgeted. Consequently, there is no plan for how that money would be used elsewhere. That also means no effort has been made to determine the economic impact of using the money elsewhere and how any return compares with putting it toward the History Center. This failure to budget highlights, again, the trust issue with this Council.
One other question from the eight: "Have you made a public statement regarding the 'Build it so we can burn it down' sign that was held up by one attendee during the public hearing on this matter?" The sign referred to in this question shows in a photo accompanying an article in the Fayetteville Observer by John Henderson titled, "Fayetteville mayor: Growing number of black residents concerned about Civil War center". The person holding the sign is sitting on the front row. Other signs are also being held up in the chamber. In their responses, Waddell and Crisp expressed concern that the sign was there, but stated that they had not made any public comment. Waddell wrote: "I have not made a public statement about it but I find all references to violence and/or criminal behavior abhorrent. I believe that regardless of whether one supports something or not we should always support civil dialogue and should be encouraging open communication without fear of retribution." Neither Haire nor Colvin addressed the question. I have no doubt that if such a sign were held up regarding a project supported by, and seen as favorable to the black community, the outrage from Colvin and his cohorts would be deafening. What message is received by white Fayetteville citizens?
So much for the questions. As to the concept for this center, it appears Colvin and those who join him in thinking there will be an overwhelming focus on slavery and justifying the South's actions in the Civil War do not understand the current concept. In an effort to be fair with the mayor, I sent him an email asking what he understood the concept to be and how he wanted it changed. No response. A few months ago, I wrote a column titled, "Needed: NC Civil War & Reconstruction History Center". It is at http://www.karlmerritt.com/2019/06/25/needed-nc-civil-war-reconstruction-history-center/. Clearly, the concept is to focus on the stories that show how all people were affected by, and responded to, the Civil War and Reconstruction. It does not take much effort to get accurate information on this matter of concept, or the whole project. Informing and encouraging the black community to do so simply does not fit with the strategy and tactics of identity politics.
In the end, due to political maneuvering, short-sightedness, and misinformation, Fayetteville will probably lose this project and suffer for years to come because of doing so. That suffering will include even greater racial tension than we know now. That will be because, even though most white citizens are scared into silence where identity politics is at work; frustration, disgust, and even anger must be present in many of them. If the concept and name are changed and the project survives, the negative impact on race relations will be the same, if not worse. What's being done here is "treacherous territory". Yes, another hijacking is underway.