America's Rapidly Unfolding Suicide
18 January 2021
On Wednesday, 6 January 2021, a group of protesters forcefully entered the Capitol building in Washington; causing extensive damage to the building and putting the well-being of occupants in danger. Those in the building included, but were not limited to senators, representatives, and Capitol police officers. The prevailing assessment by the media, many politicians, and people across the nation appears to be that this event was caused by President Donald Trump's speech to protesters earlier in the day and because this was a hate-filled crowd.
I take exception to the Trump and hate-filled argument. If we were not in the midst of this COVID-19 pandemic, I would have been there for the protest; however, I would not have gone into the Capitol building. I do not seek to justify what was done. The actions of those who forced their way into the building were horrendous and totally unacceptable. What I know is that I would not have been there for the protest because of hate on my part. Maybe some people were there because of hate, but I contend that was not, by any means, the primary driver of the protest itself or what happened in the Capitol.
Abraham Lincoln, one of our greatest presidents-maybe the greatest, gave us clear notice that this kind of thing could come to America and he made no reference to hate. Instead, he contended that when groups of innocent people are mistreated and abused over time, there will come a point at which those in a free society will stand up to the abuse and the result will be extremely destructive. Following is from "Lincoln's Address Before the Young Men's Lyceum of Springfield, Illinois" delivered on 27 January 1838:
How, then, shall we perform it? At what point shall we expect the approach of danger? By what means shall we fortify against it? Shall we expect some transatlantic military giant, to step the Ocean, and crush us at a blow? Never! All the armies of Europe, Asia and Africa combined, with all the treasure of the earth (our own excepted) in their military chest; with a Buonaparte for a commander, could not by force, take a drink from the Ohio, or make a track on the Blue Ridge, in a trial of a thousand years.
At what point then is the approach of danger to be expected? I answer, if it ever reach us, it must spring up amongst us. It cannot come from abroad. If destruction be our lot, we must ourselves be its author and finisher. As a nation of freemen, we must live through all time, or die by suicide.
In America, we have come to the exact condition that Lincoln declared would be the point of this nation's suicide. Through no illegal action on our part, the freedom of some 75 million Americans is being ripped from our grasp and we appear helpless to do anything about it. I steadfastly argue that what happened by way of the non-violent protest on 6 January and the storming of the Capitol had nothing to do with overwhelming hate; it was about millions of people across this Nation reaching the breaking point with regard to being insulted, abused (even physically), told by word and deed that we do not count, and ordered to shut up and go away. Lincoln warned America, people who have known freedom and are innocent of any wrong deserving of strong corrective action will only non-violently accept abusive treatment for so long. It appears, not because of hate, but because the freedom of innocent people is being disrespected and denied, America's suicide is quickly unfolding.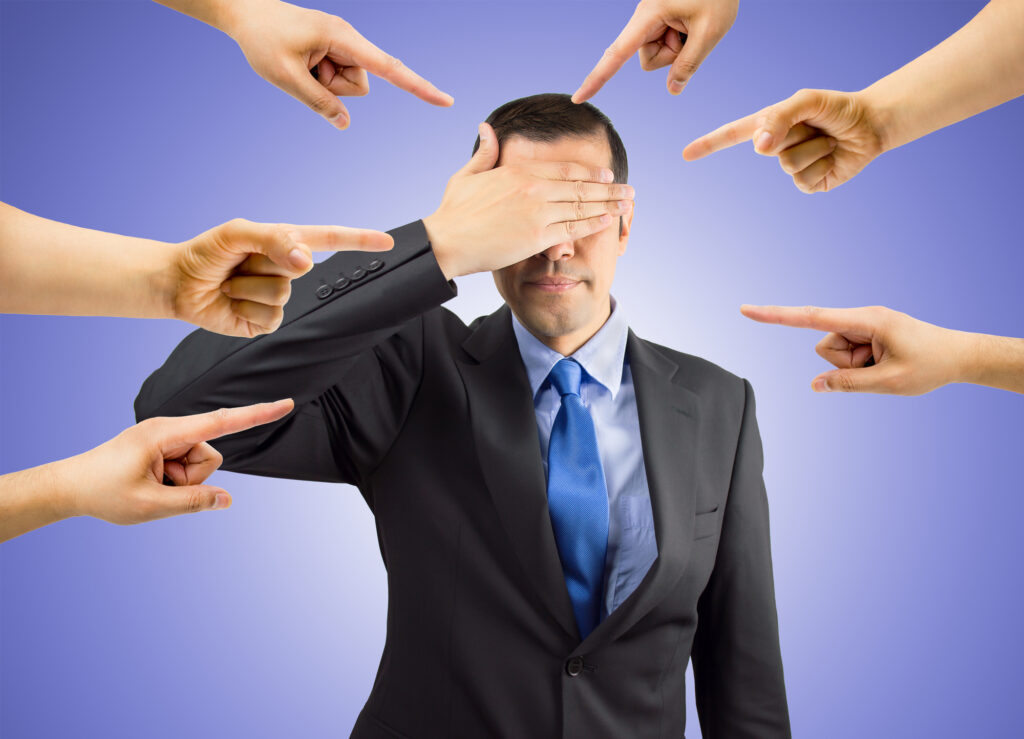 When I say "innocent people", I am referring to Trump supporters. I am sure there are some of his supporters who might have been identified, before 6 January, as acting in an unacceptable, even illegal, fashion. However, unless the liberal media failed to catch a bunch of incidents, and given their diligence in this regard-I doubt they missed any, those cases are very few.
Consider some of what Trump supporters have had to and still contend with. Start with 'Rise up, women!': Angry crowds flood Capitol Hill to protest Brett Kavanaugh nomination" by Doug Stanglin and Caroline Simon. This article reports how protesters, mostly women, during the 2018 hearing for Brett Kavanaugh to become a Supreme Court Justice, stormed the Capitol, Senate office buildings, and gathered in front of the Supreme Court; some Democrats, apparently supportive, spoke to the group outside the Supreme Court. One of the speakers was then Senator Kamala Harris. There were many arrests. One woman blocked an elevator that Senator Jeff Flake was trying to enter and made some rather direct negative comments to him. There is one quote from a protester that seems relevant in the current situation:
Rachel Egan, another protester, agreed. "There's a long history of nonviolent disobedience in this country," she said. "It generally occurs when people feel that there is no other recourse to shine a light on injustice."
This group storms the very seat of the federal government, not as physically destructive as 6 January, but still invasive. Even though many were arrested; in the overall they were welcomed and applauded by Democrats. Their actions were viewed as acceptable and there was no mention of them acting out of hate. In fact, they were encouraged by various Democrats.
Beyond the above example, the listing of violent and destructive incidents perpetrated by individuals and groups, but left unchallenged by Democrats and liberal media seems almost endless. A case in point is what happened and continues to happen in Portland, Oregon. There have been ongoing protests coupled with violence, looting, destruction of government buildings and private businesses. Lives of hardworking innocent citizens have been forever adversely affected.
A press release from The United States Attorney's Office, District of Oregon, titled "Portland Man Charged in May 29, 2020 Arson at Justice Center" addresses one incident that makes clear what happened and is happening across America. Here is a section of that press release:
PORTLAND, Ore.—U.S. Attorney Billy J. Williams announced today that Edward Thomas Schinzing, 32, has been charged by criminal complaint with using fire to maliciously damage or destroy the Justice Center in downtown Portland on May 29, 2020.
Multnomah County and the City of Portland own the Justice Center building located at 1120 SW 3rd Avenue in Portland. The facility houses the Multnomah County Detention Center jail and the Portland Police Bureau headquarters.
According to court documents, Schinzing was marching with a group of protestors when he arrived at the front of the Justice Center shortly before 11:00 p.m. on May 29, 2020. A few minutes later, several people broke windows near the northwest corner of the Justice Center where the Corrections Records Office is located. They subsequently entered the secured office through the broken windows.
Three civilian Multnomah County employees were working inside the Corrections Records Office at the time and fled for safety as the windows were broken
Look, again, at that press release section above. Except for the setting of fires, it seems that what happened in Portland was very similar to what happened at the Capitol. However, the responses of Democrats and the liberal media were very different in these two cases. There was hardly a word from them regarding the Portland incident. If anything, as has been the case with protests, rioting, looting, and physical attacks, liberal media and Democrats would refer to this incident as "mostly peaceful".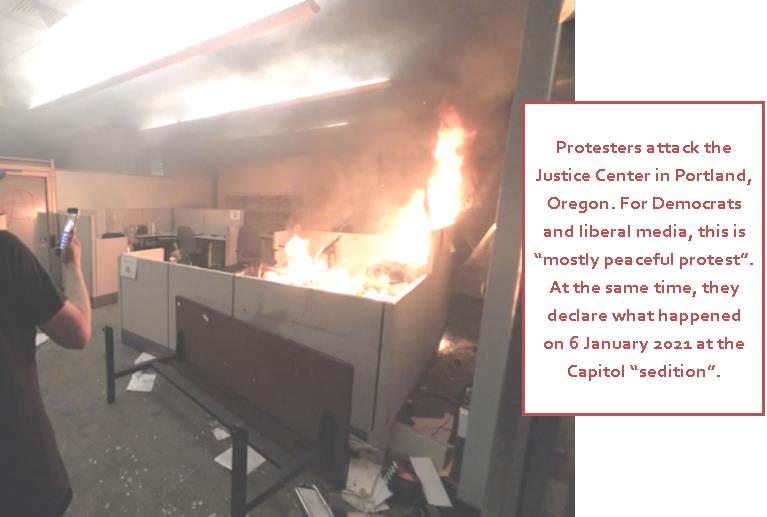 Now to Kenosha, Wisconsin; Jacob Blake, a black man, is shot seven times by a white police officer resulting in him being paralyzed. A 3 September 2020 article by Bowen Xiao titled "Most Businesses in Downtown Kenosha Boarded Up; Business Owner Says She's 'Heartbroken'" includes the following partial description of what happened in response to that incident:
More than two dozen stores in the business district of Kenosha, Wisconsin, have been forced to close because of recent unrest in the city, but some business owners are still optimistic that things will turn around.
Businesses in this particular area—located downtown within walking distance from the Kenosha County Courthouse—were targeted by rioters last week. Some were set on fire, many were broken into, while a few lucky ones remained untouched.
At least 90 percent of all stores in the area were fully boarded up.
Democrats and the liberal media showed little or no outrage in response to what happened in Kenosha by way of injury to hardworking business owners and their employees. Their attention was focused on playing to black voters by condemning the shooting. Presidential candidate Joe Biden visited Kenosha and, with great fanfare met with Blake's parents and other family members. Interestingly, District Attorney Michael Graveley, on 5 January 2021, announced that the officer who shot Blake will not be charged. Biden, Democrats, and the liberal media played the "race game" in focusing on the shooting while giving little attention to the masses of other suffering people in Kenosha. That is their approach across America. Those of us in that neglected group were not neglected by Donald Trump. Yes, I am black, but my political, social, and religious views put me in the camp of the despised.
I could go on to paint similar pictures from occurrences in Chicago, New York, Seattle, Raleigh, Washington, Minneapolis, and the list goes on; even Fayetteville, North Carolina where I live. Our experience highlights another aspect of how people in authority have responded and are responding to the mayhem across this country. Following what was a peaceful protest on 30 May 2020, rioting, looting, and damaging of buildings commenced in the downtown area. Police were directed not to intervene. Businesses were damaged and fire set to the Market House, a historic building. The violence, including looting, moved to the mall area where any deterrence by police seemed minimal.
Later, a group of protesters setup at the Market House and refused to leave for several days; they had a list of demands. In the weeks that followed, there was and continues to be outreach by city officials, the media, church groups, and so on, to individuals and groups that are supposedly in a position to articulate the concerns that produced this chaos and work to rectify the situation.
My problem is that I have not and do not expect to see this kind of response to the Capitol attackers or the non-violent Capitol protesters. On 12 January, I watched a bit of a Justice Department press conference where the clear focus was on finding as many of the people who entered the Capitol and prosecuting them to the fullest possible extent of the law. I do not hear anybody, not elected officials, community leaders, or church folk… nobody asking to meet with even the peaceful 6 January protesters to hear their concerns; to pray with them; hear why the attackers did what they did or why thousands of people participated in the protest event.
On 13 January 2021, the House of Representatives impeached President Donald Trump for the second time. Only ten Republicans joined with Democrats in voting to impeach. The single article of impeachment accuses Trump of inciting violence against the government of the United States by repeatedly issuing false statements claiming fraud in the 2020 Presidential election and that the results should not be accepted by the American people or certified at the state or federal level; just before Congress started the certification process on 6 January, Trump is accused of making statements that resulted in the Capitol attack. The only statement referenced is '"if you don't fight like hell you're not going to have a country anymore"'; that Trump urged the Georgia Secretary of State, Brad Raffensperger, to '"find"' enough votes to overturn the Presidential election results.
The Brad Raffensperger piece in that article totally fails when it is considered in the context of the full phone call. When I hear people use the word "fight" as Trump did in his speech and then he close his comments by calling for peaceful protest at the Capitol, it is an impossible stretch to get "inciting violence" out of that statement. I will address the alleged "false" election piece a little later. It seems that if what Trump said about fighting for the country is reason for impeachment, the words and actions of some other people should make them candidates for some type of punishment. Consider these: (Click on the item to see details.)
If the charges made against Trump are sufficient for impeachment, it seems to me that the actions detailed above deserve serious scrutiny. I see encouraging intimidation of others, supporting violent activities, lying about evidence in a critical investigation, and challenging the results of an election. Democrats and the liberal media raise no objection to any of this, but put more important needs of the American people aside and totally focus on trying to tear Trump apart.
As for the charge that Trump falsely contended that there was fraud in the 2020 election, please read my article titled "Election Integrity: America, we have a problem". In it, I detail a multitude of reasons for concluding that there was substantial fraud in the 2020 Election. Trump supporters look at evidence provided by eye-witnesses under penalty of perjury; consider findings regarding dead voters, under-age voters, people living outside the area in which they voted, and so on; administrators making changes to voting procedures that can only be made by legislatures; serious indications that votes were switched from Trump to Biden; and the list goes on.
Given the numerous suspicious happenings in and related to that election, a sizeable group of Republican Representatives and Senators committed to opposing the certification of some states. Notable in this group were Senators Josh Hawley (Rep, MO) and Ted Cruz (Rep, TX). Biden was certified as the next president. All Hawley, Cruz and others wanted was a ten day in-depth investigation of the questionable events. The liberal media would not investigate; the judiciary did not have the guts to seriously address the issues. Given that Congress has and will investigate Trump at the drop of a hat, why won't they investigate an election that reeks of fraud indicators? Instead, the concerns of 75 million Americans are declared false without even a hint of minimal investigation. How does anybody conclude that Trump supporters should or would not be alarmed and distressed by this kind of treatment? Not hatred…try astounded, disgusted, marginalized, abused, exploited (taxed, lives on the line in the military/as first responders-etc., committed citizens, but treated as valueless).
The harsh treatment goes even further. Here is just a partial list of what has been or is being done to punish and/or control Trump and his supporters:
President Trump:
Impeached a second time.
Banned from Twitter for life.
Indefinitely suspended by Facebook.
Temporarily suspended by YouTube.
PGA of America pulls 2022 PGA Championship from his golf course.
NYC will pull city contracts with Trump Organization.
The following companies are ending relationships: Deutsche Bank, Signature Bank, Stripe (credit card processor), Shopify, Cushman & Wakefield (handled various Trump properties).
Others:
Thousands of lawyers and law students are calling for Senators Cruz and Hawley to be disbarred because they objected to the certification of Joe Biden as President. Be reminded, what was attempted by those in opposition is provided for in the U.S. Constitution and they acted accordingly. 
"As Congress weighs how to hold President Trump accountable for last week's insurrection, calls are growing for two Republican senators, Ted Cruz and Josh Hawley, to resign for their role in fanning the flames." 
Senator Hawley reported that protesters threatened his wife and newborn baby; later vandalized his home.
Senator Hawley's book contract was cancelled by Simon & Schuster because of his efforts to object to several states' slates of electors which would overturn the result of the presidential election.  
A large number of pro-Trump accounts were deleted by Twitter and Facebook. 
Various corporations are promising to end their contributions to Trump supporters in Congress.
The head of the nation's largest union of flight attendants says people who took part in the violent protest at the Capitol must be banned from flying.
"The Harvard Institute of Politics removed Rep. Elise Stefanik (R-N.Y.) from its Senior Advisory Committee in the wake of last week's deadly riot at the U.S. Capitol, pointing to her unfounded claims of voter fraud in the November election."
There is a widespread effort underway to prevent Trump staffers from gaining employment after leaving the administration.
Parler suspended operations indefinitely after Amazon, Google and Apple stopped providing access to the social media platform claiming it was being used to incite violence. Parler was popular among Trump supporters.  
Harvard University students demand that the school revoke the degrees of anyone who supports or is affiliated with President Donald Trump because they believe he instigated an insurrection.   
There is an effort to have Newsmax, a cable network frequented by conservatives, removed from the air.
Argument is being made that Trump supporters need to be deprogrammed.
All of this shows what happens when a group locked out of the mainstream of the American political process finds a way into the process. Donald Trump recognized our plight, joined with the locked-out and gave us a voice in the Country's political process. He did that for over four years. We gained some power and influence, but the price for Trump and for us has been high and, maybe, the price ahead will be even higher. In part, that price is reflected in the list above. Please, show me one Democrat aligned person who participated in rioting, looting, damaging government buildings, destroying privately owned businesses, simply causing chaos and destruction across this nation for the last several months and was punished in a fashion similar to that summarized above. Further, identify one Democrat aligned person who was held to account for supporting these illegal and destructive actions; Kamala Harris went on to be elected Vice-President.
By way of summary, my argument is that Democrats, the liberal media, and others who align with these two groups seek to suppress the voices of Trump supporters; disregard and berate our concerns regarding critical issues such as illegal immigration and the likelihood of fraud in the 2020 Election; diligently endeavor to punish us to the maximum extent of the law for demonstrations of opposition while they excuse and protect those who commit atrocious criminal acts, but support them (Democrats, etc.); encourage and support verbal attacks on us and even protests at the homes of Trump supporters; and make no effort, zero, to hear and understand our concerns and complaints.
Abraham Lincoln warned us; the condition reflected in this assessment, left unattended, will quickly bring this nation to suicide. Will we correct course? Time is of the essence.