About Karl Merritt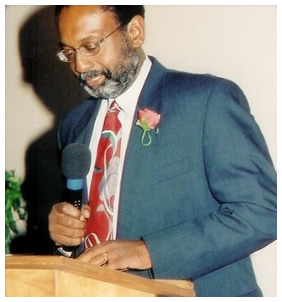 Born to Milton and Ruth Merritt in Bainbridge, Georgia in the Spring of 1947 was a little boy who would grow into a man with aspirations to make his mark in the world. Karl Merritt was born to loving parents, but was initially reared by his maternal grandmother due to childhood illness and his parents' determination to complete college. His grandmother, Bessie Williams, served as not only a caregiver for eight years, but also as an influential figure in Karl's life. He often recalls sweeping the porch under "Ma Bessie's" supervision while she would remind him to "Do a good job of sweeping. Get the corners.  You don't know what you might have to do in life.  Whatever you do, learn to do it well."
Once able, Karl returned to his parents in Camilla, Georgia. Upon completing Camilla Consolidated High School, he went on to earn a B.A. degree in Business Administration from Morehouse College in Atlanta, Georgia and later a Master of Divinity at Wesley Theological Seminary in Washington, D.C. Although she died years ago, Ma' Bessie's words to "…do it well" have always stuck with him.
After spending 21 ½ years serving as a Supply Corps Officer in the U.S. Navy, Karl answered the call to ministry and served as Assistant Pastor and eventually Senior Pastor of Mount Olive Baptist Church in Stafford, Virginia. When his wife Denise, an Army Chaplain, received military orders the couple relocated to Augusta, Georgia and later to Fayetteville, North Carolina where they currently reside. Karl's first five years in Fayetteville were spent in Real Estate where he gained the reputation of an honest and hardworking Realtor who truly sought to satisfy his clients.
His reputation often preceded him and, as a result, he was very successful. Despite his success in Real Estate, Karl decided to pursue a cause that would allow him to serve as an example and make a difference in his community. In 2009 he left Real Estate to volunteer full time with Great Oak Youth Development Centers, Inc. (www.goydc.com), which is a non-profit organization he co-founded with Bobby Washington and Dr. Catrina Murphy. The Organization's mission is to build foundations among youth so they will be able to achieve and succeed in life. Although very proud to officially be a "senior citizen," Karl still attributes his hard work ethic, perseverance, and civic-mindset to his parents who are both in their mid-80's. His mother, who went from working in a poultry processing plant to teaching for over 30 years in the public schools of Mitchell County, Georgia, has provided an example of perseverance and forgiving others that impresses and guides him.
His father who served in various capacities from building contractor, to pastor, to civil rights activist, and teacher, to name a few, was the inspiration for Karl's first published book "Rough Side of the Mountain: Reflections of a Country Preacher." This book, as well as other writings, recorded speeches, and sermons are available for sale through this website. Karl is a proud father and grandfather, and currently resides in Fayetteville, North Carolina with his wife, Denise.